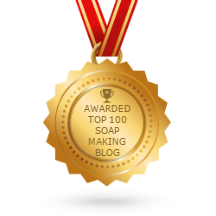 I was recently contacted by Anuj Agarwal to say that we had been included in the Feedspot Top 100 Soapmaking blogs.
"My name is Anuj Agarwal. I'm Founder of Feedspot.
I would like to personally congratulate you as your blog Riverlea Soap has been selected by our panelist as one of the Top 100 Soap Making Blogs on the web.
http://blog.feedspot.com/soap_making_blog/
I personally give you a high-five and want to thank you for your contribution to this world. This is the most comprehensive list of Top 100 Soap Making Blogs on the internet and I'm honored to have you as part of this!"
I have to admit that I had not heard of Feedspot so I had to Google it…
Feedspot is a News and Blog Reader used by over one million users Globally.Its a place where users can read all their favorite website in one place. We are Based in U.S.
We have considered following factors to rank the blog.
· Search Engine ranking
· Social media influence
· Social media buzz
· Alexa Ranking
· Post frequency
· Quality score by our editorial team
Thanks guys what an honour.